Photo Search
To browse our photo archives, please scroll through the pages using your mouse.
To search our photo archives, please enter a keyword or phrase into the search box.
To search photos by decade, please use the dates on the side bar.
To view a larger image and see the complete text of the caption, please click on the photo.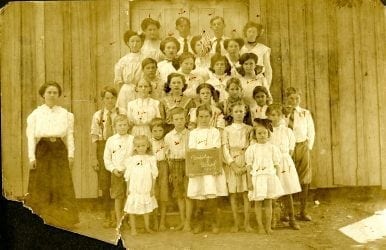 These students from the Peabody School in Tupelo, a farming town south of Newport, stand with their teacher, Ruby Harris who taught all grades.  A note on the back of the photograph identifies the students by las manes as, from right to left, (first row) Taylor,...