Photo Search
To browse our photo archives, please scroll through the pages using your mouse.
To search our photo archives, please enter a keyword or phrase into the search box.
To search photos by decade, please use the dates on the side bar.
To view a larger image and see the complete text of the caption, please click on the photo.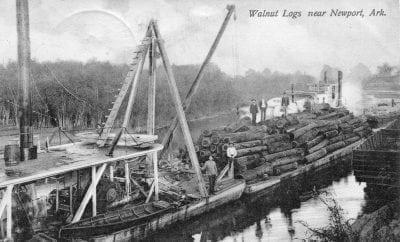 This postcard shows walnut logs being loaded onto a barge somewhere near Newport.  They were on their way to a sawmill downriver - perhaps the Empie Lumber Mill in Newport, where they would be cut and planed into boards, studs or shingles - but they occasionally...