Photo Search
To browse our photo archives, please scroll through the pages using your mouse.
To search our photo archives, please enter a keyword or phrase into the search box.
To search photos by decade, please use the dates on the side bar.
To view a larger image and see the complete text of the caption, please click on the photo.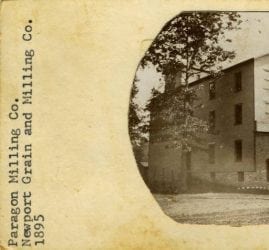 The Paragon Milling Company Building with a tree in Newport.  Later the building was the Newport Grain and Milling Company. From the James Morgan Collection.