Photo Search
To browse our photo archives, please scroll through the pages using your mouse.
To search our photo archives, please enter a keyword or phrase into the search box.
To search photos by decade, please use the dates on the side bar.
To view a larger image and see the complete text of the caption, please click on the photo.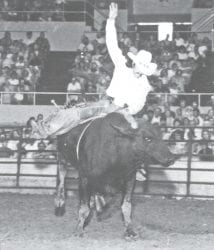 Robert Haas "Rob" McDonald, descended from several old Jackson County families, won the International Professional Rodeo Association's World Bull Riding Championship at Madison Square Garden in 1977. Competing for many years, McDonald also trained horses and performed...