Photo Search
To browse our photo archives, please scroll through the pages using your mouse.
To search our photo archives, please enter a keyword or phrase into the search box.
To search photos by decade, please use the dates on the side bar.
To view a larger image and see the complete text of the caption, please click on the photo.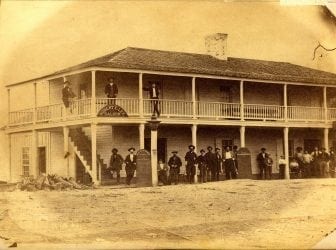 Said by residents to be the original Tunstall Tavern in Jacksonport, renamed the Robert E. Lee saloon after the Civil War, this was a favorite watering hole for men of the town.  The outside stairway, large central chimney, and upper gallery place it architecturally...